Education plays an essential role in helping to understand the various ecological problems, and the association Bio Consom'actors has understood that. In order to make children aware of topics such as nutrition, health and environmental protection, the association Bio Consom'acteurs has set up LUDOBIO. Through this 5 activity game box, the aim is to approach the principles of organic farming in a fun way, while raising other issues related to biodiversity, breeding conditions or food balance. Julie Potier, director of the association, tells more about this educational project. Discovery!
Who are you and what do you do?
I am Julie Potier, director of the association Bio consom'actors since 2017. When I joined the association, the stocks of the LUDOBIO game were exhausted (500 games were published in 2015). I then proposed to the board of directors to relaunch this tool, through a crowdfunding campaign. This allowed us to fund the game update and print 1,000 new boxes.
Since then, we have built a real educational project and developed a series of interventions in primary schools to raise awareness among 6-12 year olds. This series is called "From the field to the plate" and was built as part of the project "Our canteens are committed to the climate".
Can you introduce us to LUDOBIO?
The LUDOBIO game is an educational tool created in 2015 by the Bio consom'actors association. It was designed to meet a need to raise awareness among children about sustainable and quality food.
This game concept, unique in France, has been developed in collaboration with nutritionists, to make young people aware of the principles of organic farming in a fun way, through issues of biodiversity, the conditions of breeding organic animals and cross-cutting themes such as food balance, sensory awareness, taste awareness and recognition of food families.
This educational tool provides a fun solution for tutors and educators to talk about topics related to organic food and agriculture and the related environmental and health issues.
Why did you decide to embark on this adventure?
When I joined the association, I saw that LUDOBIO could meet a need for tools to make the youngest aware. To talk about food, facilitators and teachers often need to create their own activities or materials.
What message do you want to convey via LUDOBIO?
In collective catering, and especially school canteens, a transition is taking place towards healthier food systems. However, the children upstream are not very aware and often have no receptivity.
There is also mistrust of the proposed changes in diet and the still excessive food waste. Therefore, it seems necessary to combine this transition with the application of an educational approach built around the LUDOBIO game, led by a trained speaker, to support and sustain the local dynamics already underway. Especially because the teaching staff often lacks the knowledge or tools to talk about these topics.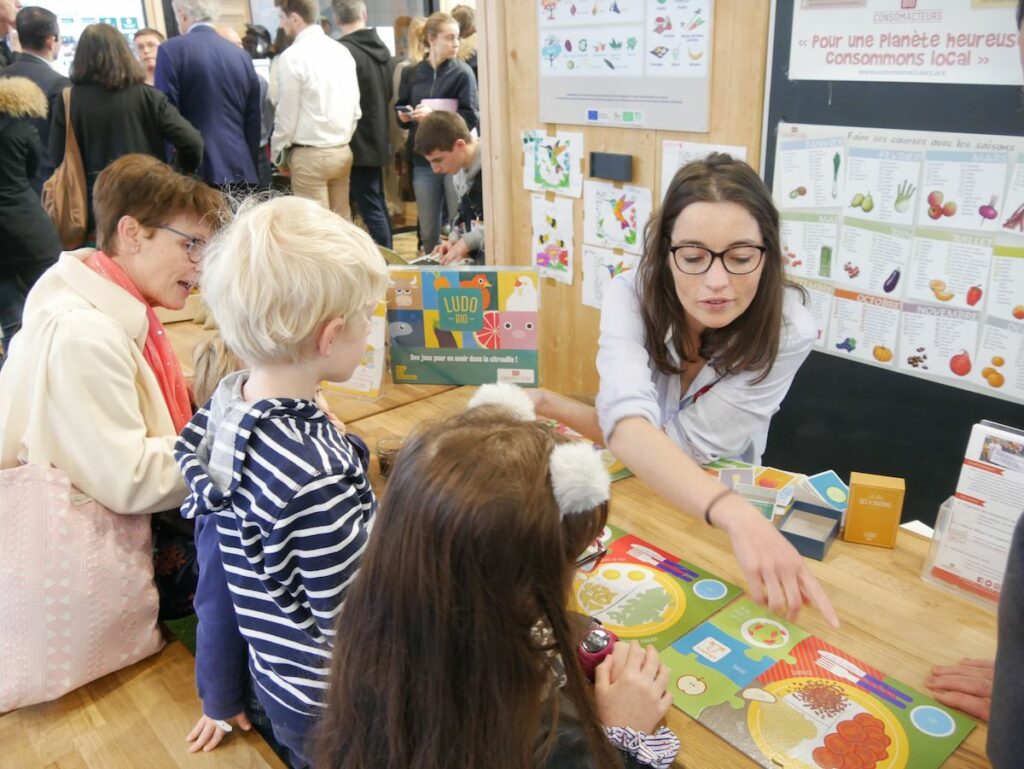 Who are LUDOBIO games for?
We try to make LUDOBIO known, and in particular to present it as an educational resource for teaching staff, which is sometimes difficult to reach in our networks.
This tool is sold online, in particular on the Dream Act and Kurioz platforms, or directly by contacting Bio consom'actors. We provide "Discovering LUDOBIO" webinars and freely share the activities and materials created with the "field to board" order.
you wish educating young people about the subject sustainable food † Meeting on LUDOBIO website to discover the educational game box made by the association Bio consum'actors!
And to please our readers, the Bio Consom'acteurs association invites you to try and win 1 LUDOBIO gameby entering our contest!