France breeds about 3.6 million so-called "dairy cows". Behind this adjective, rather banal in ordinary language, hides a dark reality. Because in order to produce milk in large quantities, these cows have to be given birth on a chain until the day they become unproductive and sent to the slaughterhouse. Land&Monkeys, the 100% plant-based French bakery, has decided to speak out against these abhorrent practices. How ? By joining the Refuge LiesGroin who rescues and collects farm animals. Meeting with Mathilde Gourlet, Marketing & Development Manager at Land&Monkeys, and Caroline Dubois, founder of Refuge GroinGroin. Together they look back on their collaboration. To speak.
Mathilde: From the beginning of our thinking we wanted to be more than a bakery that produces and sells bread. We wanted to be a company that contributes to change by providing financial support, but not only, associations invested in the protection of life. We have established a symbolic figure: 1% of the annual turnover is donated to associations. After 12 months of activity in February 2021, we have therefore identified two associations: Refuge LiesGroin (who rescues and takes in farm animals) and the Jane Goodall Institute (which helps in primate conservation).
We chose the Refuge LiesGroin and the sponsorship of the Marguerite cow because we liked the idea of ​​associating our story with that of this prim'holshtein cow with the beautiful black and white coat you see everywhere in the French countryside, except that for her the story ends well… Being a vegan bakery that does not use milk from the dairy industry, this is the story we wanted to tell our customers by letting them taste our pastries! We also chose primatologist Jane Goodall's move because we liked the wink with our name "Land&Monkeys". The ultimate goal is to link all our stores to an animal protection association.
"Marguerite is now the mascot of Land&Monkeys. The goal is really to emphasize it. That it embodies a story: that of a cow rescued from intensive farming and now grazing freely in the meadow. »

Mathilde Gourlet, Marketing & Development Manager at Land&Monkeys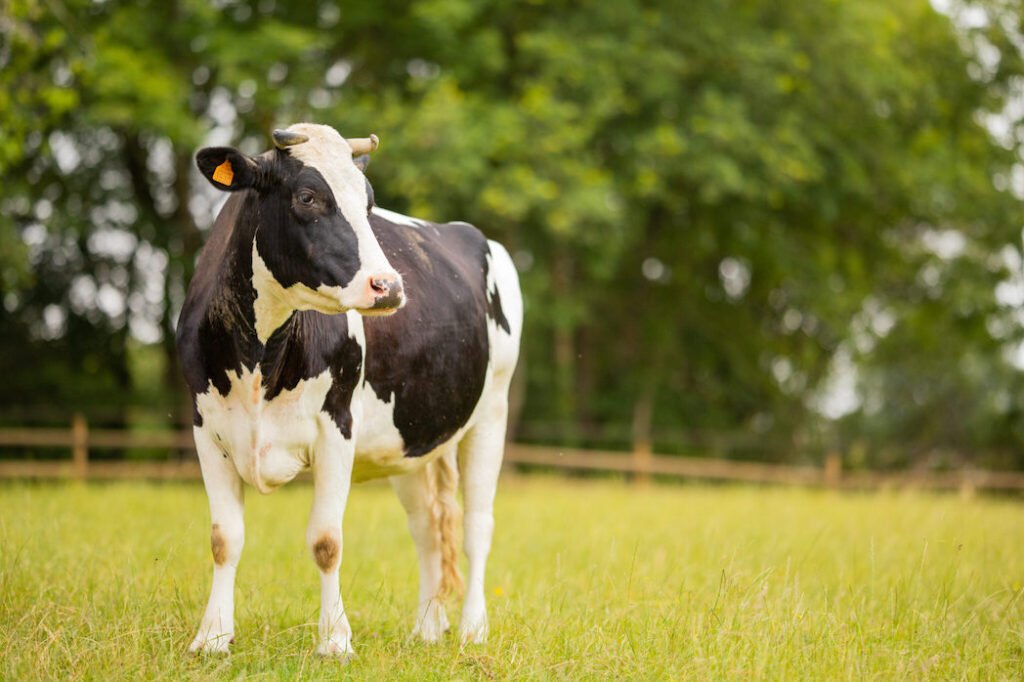 Marguerite's sponsorship
carolina: Since her birth in 2013, Marguerite has been rescued twice. As a baby she injured her leg and therefore had no value for breeding. A neighbor of the dairy farm chose to save her. They adopted her, took care of her and raised her for several years, but the complete care of a cow costs money and this woman no longer had the means to do it. So she contacted us, the Refuge GroinGroin, and luckily a spot had just become available. Marguerite became a boarder in 2019 and is now nine years old.
Marguerite's sponsorship takes several forms, including financial. The amount paid will be used to cover veterinary costs., as we offer treatments that are rarely performed on farm animals. This makes it possible to pay the dietary supplement in winter, as well as part of the cost of the care time of our four animal caretakers. In addition to the financial aspect, there are also the volunteers of the shelter who work between the maintenance of the living areas and the cleaning of the enclosures and shelters…
"Thanks to Land&Monkeys we can open another place for sponsoring. »

Caroline Dubois, founder of Refuge GroinGroin
Refuge GroinGroin has few sponsors, foundations or companies. The sponsorship of Land&Monkeys is therefore one of the most generous. Apart from the money, it provides financial security as it makes things sustainable. Thanks to this association we can still open a place for sponsoring. That's how we grew up. Our work and that of Land&Monkeys are complementary.
A second life for animals saved from intensive livestock farming
Refuge GroinGroin saves and collects animals rescued from farms or slaughterhouses, abandoned by their owner or held in harsh conditions in private households. Every day, our seven employees receive between one and two requests for support. As many requests as negative answers, due to lack of space within the reception. For animals lucky enough to become boarders, it is a second life that is offered to them.
Indeed, on the farms, 80% of the pigs are killed at the age of 6 months while they are in the shelter an average life expectancy of ten years. For example, dairy cows are forced to produce 6,700 liters of milk per year, four times the milk requirement of a calf. When they are no longer as efficient, they are sent to the slaughterhouse, often at the age of 8, when they have a life expectancy of 20 years.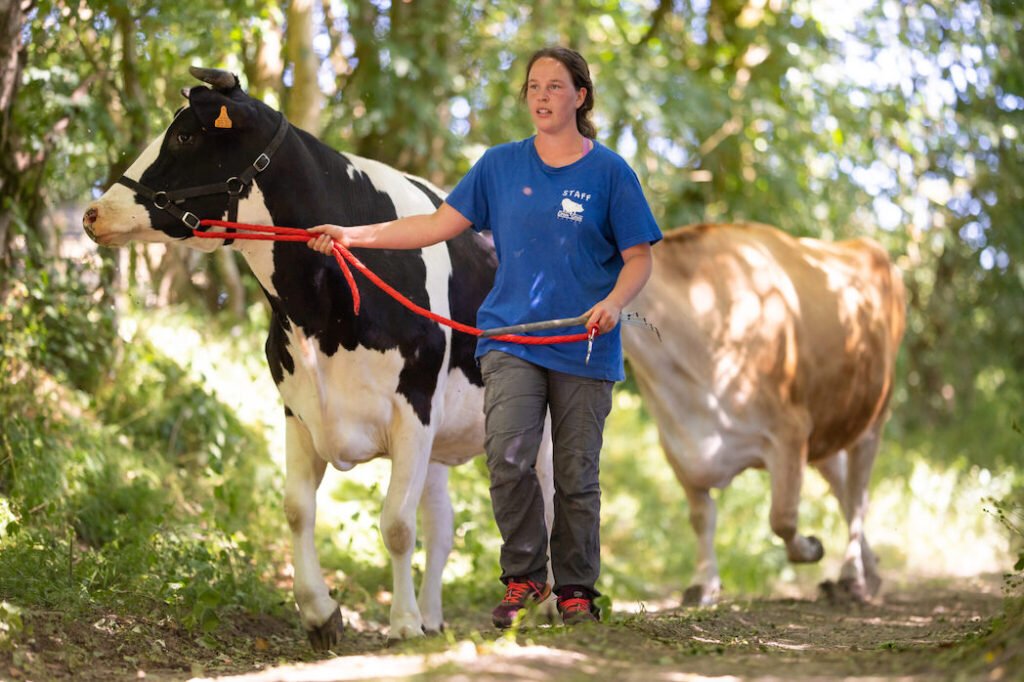 Creating awareness among as many people as possible
In order to develop, we need financial resources to recruit workers and welcome new residents (we currently have 12 acres). In a farm there is one human for 250 sows and their babies, while in a shelter there are 100 animals, including 50 pigs for four caretakers and volunteers. The idea of ​​Refuge GroinGroin was to fund itself. What made our development possible is: sponsorshipbecause it is a real sustainability solution.
For two years, the beginning of our partnership with Land&Monkeys, our refuge sees clear progress presence and better view. Of the visitors, 60% have already asked questions about animals and 70% say they are willing to reduce the consumption of animal products. To educate young and old, we organize meetings and open days. Because the idea of ​​Refuge LiesGroin, is to grab people by the heart. It's to convey the emotions, without making people cry. It is that people can have a real encounter with animals.
By Mathilde Gourlet, Marketing & Development Manager at Land&Monkeys and Caroline Dubois, founder of Refuge GroinGroin.
Learn more about the eco-responsible approach from Land&Monkeys? Find all his obligations to the planet and the living secure his website. Are you in Paris? Why not stop at one of the bakeries in front of taste the delicious 100 % vegetable pastries ?