In a context of global energy crisis, exacerbated by the prospects of an ongoing conflict in Ukraine and the painful reminder of our dependence on energy, the Terre Solidaire Foundation believes that energy is too important a topic for citizens to think about. Citizens' collectives are already being mobilized to produce green energy and many projects exist.
By supporting these citizen alternatives, the Terre Solidaire Foundation contributes to accelerating the French energy transition and underlines the importance of:
To consolidate the impact of civilian energy projects,
The emergence of renewable energy citizen collective skills.
Rethinking the production, distribution and consumption of energy at the territorial level is essential to decarbonise and relocate our economy. Focus on 3 emblematic projects to be supported in 2021.
Development of clean and renewable energy by and for citizens: the collectives of Centrales Villageoises
385 photovoltaic installations in use, operated by 38 Village Power Plant companies 32% renewable energy in gross final energy consumption in 2030.
Citizen and local ownership of projects is an essential factor for the success of the energy transition. Whether at the initiative of citizens or in collaboration with local public and private actors, territorial anchoring promotes local acceptance of projects, mobilization of savings for the local economy and awareness of energy transition issues. While citizen projects represent a strong trend in neighboring countries such as Germany or Denmark, initiatives in France are still struggling to emerge due to a less favorable regulatory and financial context.
The village centers are local companies with citizen management that carry out projects for the benefit of the energy transition by being part of a logic of territory. They bring citizens, communities and local businesses together and contribute to energy objectives by taking into account territorial issues transversal (local economic development, landscape integration, social ties, etc.).
They appeared in 2010 when several regional natural parks in Rhône-Alpes saw the development of renewable energy production projects on their territory, which benefited little from the local economy and were sometimes poorly integrated into the landscape. They then envisioned the development of a new model for renewable energy production that would be based on:
The close involvement of communities and local populations;
The production of economic benefits for the area;
Respect for the built and landscape heritage.
The model was initiated in 8 pilot areas and then extended to 49 territories (6 regions).
Support the scaling of citizens' energy cooperatives in Auvergne-Rhône-Alpes
The Auvergne Rhône Alpes region (AURA) is one of the three most dynamic French regions in terms of energy transition for citizens, along with Brittany and Occitanie. Despite this very encouraging dynamic, the environmental, economic and social impact of these initiatives is still marginal compared to the regional and local problems of territorial transition.
CoopaWatt designed and proposed the program Acceleration of citizen projects for the production of renewable energy in AURA to exceed a threshold in their development and thus amplify their impact in the energy transition. In concrete terms, this involves structuring, within the citizen cooperatives in each territory of experimentation, a long-term vision linked to operational objectives over 3 years, decreasing in particular on the following axes:
A reflection on the internal organization, which today is mainly based on volunteering, and the issue of professionalization and job creation;
The expansion of their activities beyond electrical renewable energy sources (energy management and other renewable energy sectors);
Broadening citizen mobilization in and around the initiatives and the rescaling of the implemented projects (by increasing the skills of citizen groups, building alliances and applying joint development practices);
The strengthening of their local roots and the development of territorial cooperation capable of providing solutions to the challenges of the area in other themes of the ecological transition (circular economy, mobility, food, etc.).
The overall objective is to multiply by five the impact on the energy transition of the citizen energy transition movement in Auvergne-Rhône-Alpes, while participating in the construction of more resilient territorial systems.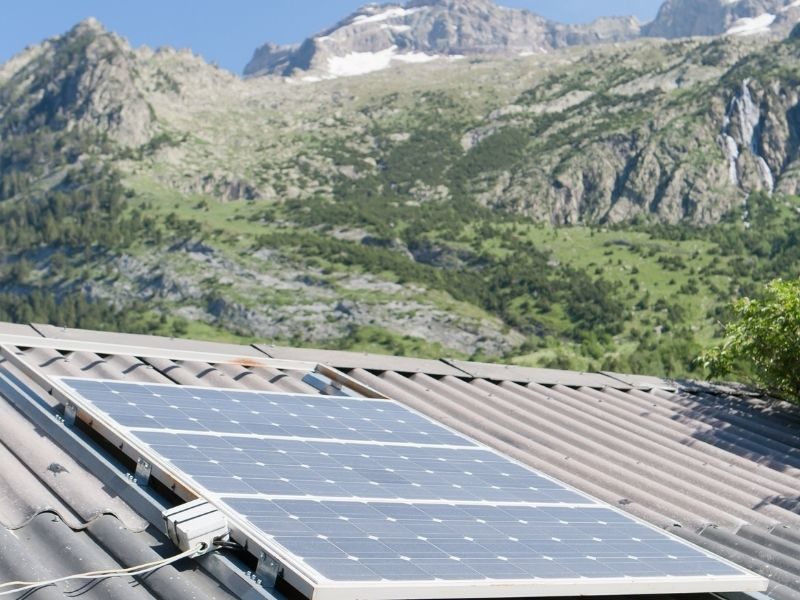 Increasing the impact of energy projects for citizens
Citizen projects 2 to 3 times more profitable for the territory than private projects 100 million euros in local economic benefits generated by sustainable energy projects of citizens.
Born in 2010 from the meeting of experts on solidarity finance and citizen energy, Shared energy supervises and finances citizen projects for the production of sustainable energy. In 2020, Energie Partagée registered nearly 250 existing projects or projects under development.
Energie Partagée, born in 2010 from the meeting of experts in the field of solidarity financing and citizen energy, supports and finances citizen projects for the production of renewable energy. In 2020, Energie Partagée registered nearly 250 existing projects or projects under development. To accomplish these missions, the movement is organized in two complementary structures:
A promotion and animation association, Energie Partagée Association, which aims to raise awareness of citizen energy and unite the actors and project leaders at the national level.
An investment vehicle for citizens, Energie Partagée Investissement, which collects citizens' savings to invest directly in the capital of renewable energy production projects.
The mission of Vereniging Energie Partagée is to promote the civilian energy model, mobilize communities, educate and support emerging project groups with the aim of increasing the number of civilian installations.
About the Terre Solidaire Foundation
Founded in 2016, the Terre Solidaire Foundation is committed to encouraging, supporting and uniting citizens' initiatives that promote best practices in agroecology, circular economy and renewable energy.
The approaches focus on four key issues:
Promoting sustainable food systems†
Support an economy that serves people and is environmentally responsible.
Development of clean and renewable energy by and for citizens†
Protect the environment and biodiversity†
†Accelerator of experiences By making innovative approaches visible to as many people as possible that can be multiplied beyond their territory of origin, the Foundation awarded more than €700k in grants in 2021 to support 27 projects in France and 11 internationally.
Do you want to build one more sustainable future for future generations † Discover how the Terre Solidaire Foundation stimulates, supports and unites citizens' initiatives promoting best practices in agroecology, circular economy and renewable energy. More info here. Do you want to support the foundation? Join and donate.