What happens to our little four-legged friends when we disappear? This is the difficult question that many animal welfare organizations face. Such is the case with the Riviera Pets Association, which has just taken in dozens of cats following the sudden death of their owner.
50. Here is the minimum number of cats collected by a resident of Saint-Raphaël, in the Var. This man, a cat lover, took in stray cats, fed them daily and unfortunately allowed them to breed for several years. Since they have not been spayed, these animals have multiplied and new kittens will be born today. But the sad news is that this Raphaëlois has passed away and his cats have nowhere to go. Powerless over this situation, the family of the deceased contacted the Riviera Pet Association.
"Everything needs to be sterilized and many need care. Some are injured, a kitten has a cut eye and needs surgery."

Kimberley Deloffre, President of Riviera's Pets
But this support comes with a price. After all, no less than 4,000 euros is needed to sterilize the entire colony. In addition to this already hefty amount, there is also care for injured felines. The Raphaëlois family donated 1,000 euros to the association, but this donation does not cover all costs.
To save these 50 cats and kittens, the organization relies on donations (money, kibble, equipment, etc.). In addition, volunteers are actively looking for families to temporarily take in one or more animals, or better yet, adopt them.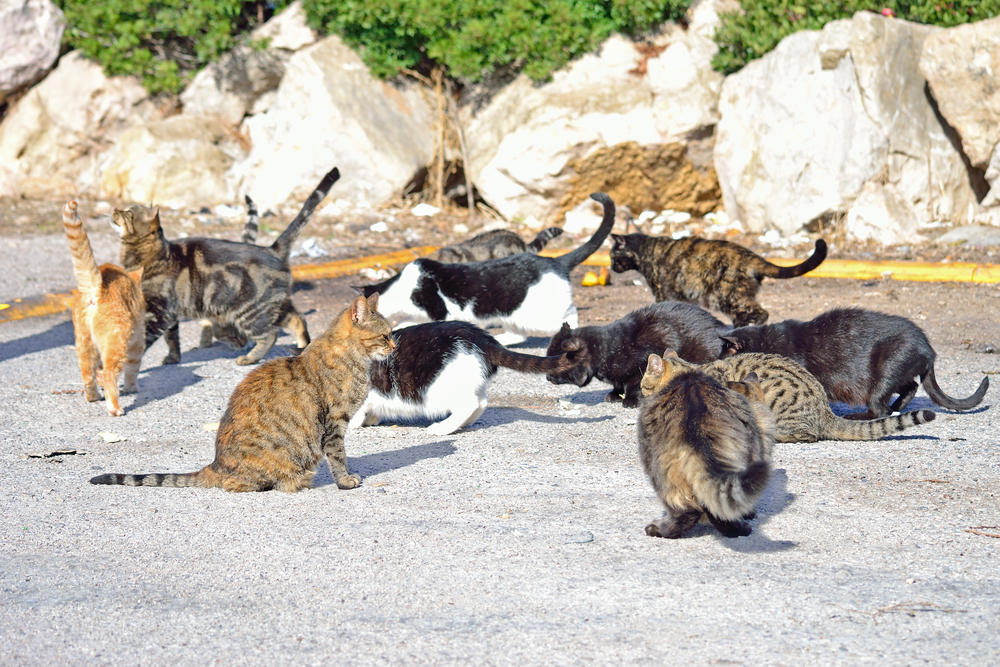 Here is the call for donations and adoption transcribed below:
"FOLLOWING AN EMERGENCY RESCUE IN SAINT-RAPHAEL, 50 CATS AND KITTEN ARE LOOKING FOR HOST FAMILIES
They are not from Cheshire, like the one fromAlice in Wonderland, but they all hope for a caring home to live in peace. A nice flock of tomcats, more than fifty, spent happy days in their master's vast grounds. Felines are particularly comfortable and fulfilled in the field as several females wait to give birth over the next few weeks. But now the unfortunate Raphaëlois, victim of sudden death, left them without means. The family of the deceased, feeling very helpless in the face of so many hairballs, contacted animal welfare associations.
Riviera's pets president Kimberley Deloffre went there last Sunday to assess the surprising situation. "We are about thirty volunteers who have helped pets, stray animals, abandoned or abused since the association was founded in 2018. The population reports problems to us and we try to take care of the animals to bring them to safety. We negotiate with the owners. If there is no way out, we hold them accountable, file a report and call the police."†
But most of the time we discuss and agree with the masters and if they have financial problems we help them with food or care, the president continues. In some cases the masters allow themselves to be overtaken, as is the case in Saint-Raphaël where a man, who certainly loved his cats very much because they are well fed, allowed them to multiply. There are more than 50 cats, stray cats that have joined this group and many unborn kittens, an established colony. It is the number that is problematic. They all need to be spayed and several need grooming. Some are injured, a kitten has a gouged eye and needs surgery†
All this comes at a price and not least: more than 4,000 euros is needed to sterilize cats. Not to mention the veterinary care for many of them. "The owner's family has donated 1,000 euros to the association and we hope for help from the Raphael municipality so that these cats no longer reproduce," adds Kimberley Deloffre. We open a pussy because we need donations, in cash or in kind, croquettes, equipment. We are also actively looking for families to adopt cats or take care of for a while Ƞ
The volunteers therefore first tackled the calamity. "We picked up future mothers and sick cats. Fifteen of them are currently at the vet. We worked from 10am to 11pm on Sunday to capture 37 cats. Nathalie Oudot from the association My city, my animals have come to support Riviera's Pets. The association "Adopt me" (Nice) took nine cats, "Les chats libre azuréens" (Cannes) took four, "La vie plus belle" (Pegomas) five and "Rien que pour lui" (Carros) two. † We have to get back to the field to complete this rescue, confides this enthusiast. We really need foster homes to give these cats a peaceful life again to be socialized or to provide shelter for pregnant mothers with their babies."
To assist with the rescue, veterinary expenses and welfare of these little beasts, through Paypal: [email protected] or via the online cat that is shared on the Facebook pages of the associations. Contact person: Kimberley Deloffre on 06 67 73 65 43. »
A rescue that reminds everyone that the sterilization of cats is an act of protection.