The maintenance of the chimney or wood stove is essential to avoid clogging of the flue and thus the risk of fire. It is therefore essential to entrust the annual sweeping to a qualified professional and to carry out two cleaning phases.
Chimney maintenance by a pro: sweeping
What's the point?
Sweeping your chimney or wood-burning stove is an essential step to ensure your safety and the proper functioning of your appliance. This practice consists of thoroughly cleaning the smoke exhaust pipes to remove the sawdust and other deposits responsible for fires and carbon monoxide poisoning (5000 cases and 90 deaths per year recorded in France). [1]
Which regulations?
Chimney sweeping is mandatory. This practice must be performed by a recognized professional belonging to the Professional Organization for the Qualification and Classification of Construction (OPQCB). As for the frequency of sweeping, it all depends on the type of heating used:
Chimney: twice a year (in the spring and during the heating period)
Wood stove: twice a year (same period)
Pellet stove: once a year
The procedure takes between twenty minutes and an hour. Once the maintenance of your fireplace or stove has been completed, the professional must provide you with a sweeping certificate confirming the proper maintenance of the equipment. This document is essential as it covers you in case of fire or poisoning.
If you do not sweep, you can be fined up to 450 euros. In addition, it is important to know that in the event of an accident, insurance will not cover your costs if you have cleaned the device yourself or have engaged an unauthorized professional. [2]
How much is it ?
The price of sweeping varies depending on where you live and the condition of your chimney or flue pipes (hence the importance of sweeping regularly to avoid high bills). On average, it costs between 30 and 80 euros, as indicated by the MMA.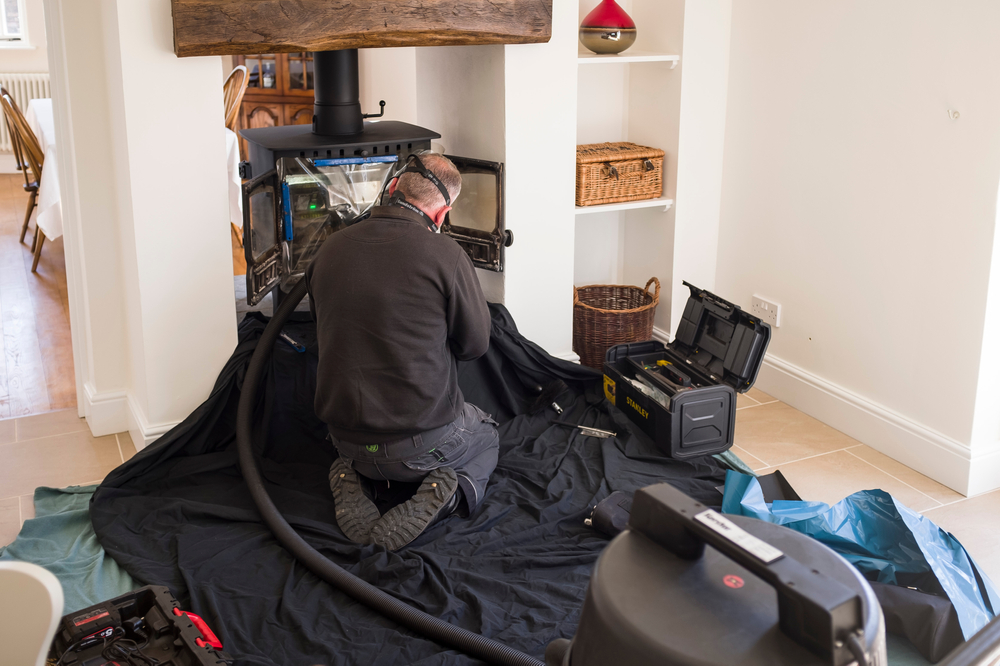 DIY Chimney Maintenance: Cleaning
As you will have understood, having your chimney or stove swept by a professional is essential. And to guarantee the operation and longevity of your device, it is also recommended to follow these two cleaning steps.
Clean the fireplace…
Who says maintenance of the chimney, says cleaning the fireplace. Goal ? Gradually remove the soot that has accumulated on the glass and in the channels. Nothing could be simpler: remove the excess material with a vacuum cleaner. Then mix water, white vinegar and baking soda and scrub with a stiff brush. It remains only to rinse with a sponge.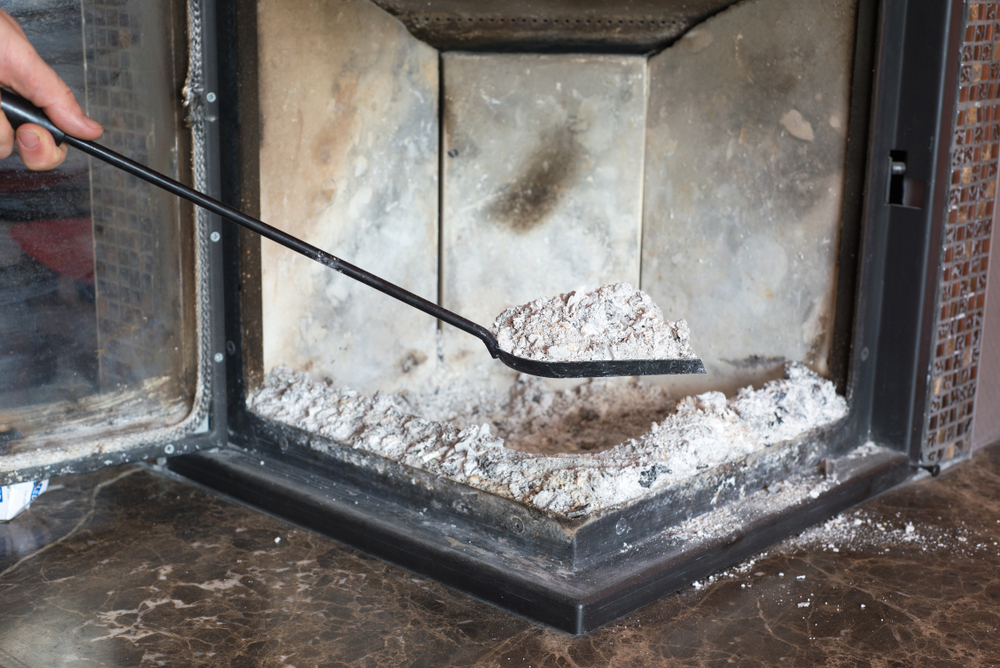 …And the glass
If you have a fireplace or stove, you know that the glass needs to be cleaned regularly. And to do it without chemicals that are harmful to your health and the environment, you can use white vinegar and baking soda (such as for cleaning the insert), white vinegar mixed with coarse salt, newspaper soaked in ash, or white meudon.
To appreciate the soothing view of the flames, it is recommended to clean the glass before each use (in the morning before lighting). And for more information, check out our hands-on article.
That's it, the maintenance of your fireplace or stove no longer holds any secrets for you. Did you like this article? Here's how to legally source forest wood for your fireplace?
Where to buy firewood for your fireplace?
Cardboard, newspaper, Christmas tree: 6 things to never burn in your fireplace or wood stove
6 essential tips to make your chimney fire last as long as possible
5 natural and environmentally friendly firelighters for your fireplace, wood stove or barbecue
Heating: how do you choose the right wood for your fireplace?