Insolente Veggie has been informing, deciphering and popularizing the themes of veganism, antispeciesism and the condition of animals since 2008. Meet Rosa B., the designer behind this precious educational support.
Reports on the agricultural fair, deciphering anti-vegan rhetoric or even educational and fun content about the link between climate change and intensive farming… The Insolente Veggie blog and social networks are a wealth of information and a concentrate of humor published since 2015 in comics by Éditions La Plage. which is defined as "extremist vegan" on her Facebook page is one of the pioneers of the popularization around anti-speciesism and veganism.
In 2008, two years after adopting a vegetarian – then quickly vegan – lifestyle, Rosa B. opened her blog, Insolente Veggie. In this digital space, the one who carefully preserves her anonymity shares her daily life as a vegan and her observations: between personal attacks and contradictory speeches, the designer has for more than a decade at his disposal rich material to make the general public aware of animal health problems .
"I have been compared to Hitler"
Originally from southwestern France, as evidenced by her singing accent on the other end of the phone, Rosa B. turned vegan after a meeting. In 2006 the one who will then be known as Insolente Veggie is studying in Ireland. "My roommate was a vegetarian, but we never talked about it", she explains. However, one day Rosa B. wonders and starts learning on the Internet. "There wasn't all the information we have today"she remembers. "They were studies, in-depth articles on breeding, and when I discovered all this, I realized the obvious: It was my roommate who was right!" That's all it takes to convince the student. Rosa B says:
"I was very disappointed because I loved meat and cheese, but I told myself that I had to become a vegetarian. However, I understood that eggs and milk were also problematic, but it seemed too hard to stop everything. After 6 months I had even gone vegan, so I finally defined myself that way!"

Rosa B., designer
When vegetarianism has normalized in Ireland, returning to France is complicated for the student, coming from a region where the culinary specialties are foie gras, duck confit, gizzards or even dried meat. The reactions can even be fierce: "I have been compared to Hitler"† People said such crazy things that I thought good comics would be made of it."
At that time, the young woman did not draw, but was a great reader of this literary genre. "I've always read a lot of comics, without any culture. I read everything at hand and thought everything was very good"she laughs, even talking about bulimia† Younger, Rosa B. "draw a bit like all children" but stopped once in the last twelve or thirteen years. "I took over as an adult to tell what happened to me". It was at that time that the apprentice designer was forced by her relatives to publish on the Internet.
"I quickly had many visitors to the blog. I don't know what state of mind I was in at the time, but I think I was happy to talk to people who were going through the same thing I was.she tries to remember.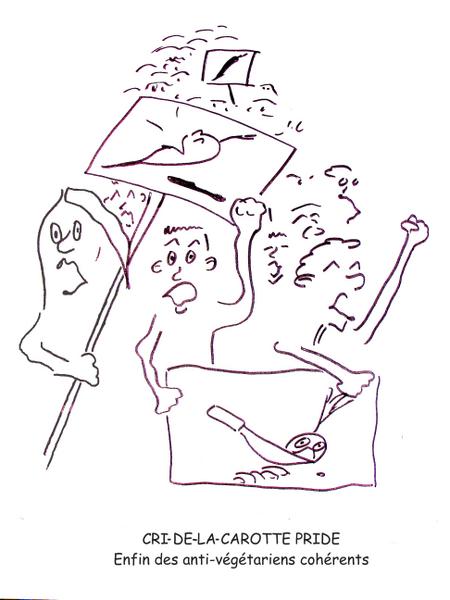 The pressure to be read
The publication that sounds "a before/after" for the designer dates back to 2013, amid the horsemeat lasagna scandal. †People panicked that they had eaten horse corpse instead of cow corpse. Which for me, a vegan, is an incomprehensible mystery"writes the Insolent Veggie at the time before unfolding his argument as sharp as it is clear.
"It was the first time I made such a long and thorough drawing"says the designer almost 10 years later. "This case was really the pinnacle of speciesism, a textbook case. There was everything: people who know they eat animals, but don't know they eat animals… I spent much more time making this drawing than the others. There I said to myself: this is serious!"
This seriousness was noticed by publishing house LaPlage, which has been publishing works for more than 25 years "around 'living differently' in an eco-responsible way", as can be read on its website. It was she who contacted Rosa B. with a view to a paper publication of her drawings, which until then had been reserved for digital format.
"I attach great importance to the dynamics of reading. I mainly publish for social media and a mobile format, so I'm working on the comics to get them into print."

rosa b.
The writing of part 5 is in full swing. "The longer it takes, the more demanding I am on myself and the longer it takes. I noticed that people listen to me, so it puts a lot of pressure on me!" It must be said that Rosa B. has built a nice community on social networks where she is followed by 20,000 people. Present in the field of activism for over ten years (online but also in demonstrations, in the organization of events or volunteer actions), his expertise in this field is invaluable.
Vote for an animal party
A few days before the second round of the parliamentary elections, the designer told POSITIVR that she was enthusiastic about the existence of the animalist party and its effective communication to put animal disease on the agenda in the political debate. "Suddenly, when there are voices to recover in the animalistic party, they come left or right to say they are the best in the business"emphasizes Rosa B. with a certain irony and joy to see that the animal's condition is progressing in the battles waged by the French. "The parties that include animal disease in their program only respond to a request from the population, it is not a risky position to take politically."
Since her debut on the web, Rosa B. has observed – and contributed to – the emergence of these topics among the general public!
"My view of this evolution is always ambivalent: it's not necessarily going fast enough with regard to the animals being slaughtered every day, because the numbers are staggering. Every second suffers in industrial quantities. And at the same time, things have evolved tremendously. If I had said to myself one day: "You can vote for an animalistic party", I would not have believed myself.
As for the rise of a vegetable and even lab meat industry, Insolente Veggie is sticking to the same stance: "I tell myself it's not going fast enough and at the same time I thought I was going to die before I saw it. If companies do business with it, I don't mind. Even if people make as much money as with positive consequences for individuals. The intentions do not have to be good to have the consequences of their actions.†
In anticipation of the emergence of a truly new model of society, the cheeky vegan pursues her mission: to inform the general public, to inform about the reality behind the words of industrialists. Like the last Agricultural Show, extensively told on the blog. "In practice, nothing has changed from previous years, but the word 'well-being' is everywhere."
Discover a selection of drawings, found on Insolente Veggie's Instagram account:
To continue reading the analyzes of Insolente Veggie and Drawing Smiling, you can contribute to his Tipee Cat which opened in 2018. More than a hundred people pay for his work, the majority of which, however, are free to access.
Since it is now forbidden to speak of "vegetable steak", a designer goes further.
Do you still eat meat? This vegan artist explains why. (6 drawings)