For thousands of teachers in France it is too much. On March 17, 2022, during his presidential campaign, Emmanuel Macron unveiled his project for teachers. A project that is far from unanimous, as Cécile Donadio tells in her letter to the President of the Republic.
French teachers who take on new assignments can be increased. Here is one of the agreements of this new pact presented by Emmanuel Macron. And that is the cause of the problem. Because a school teacher's work week is already very busy, so much so that it has become almost impossible to clear a niche.
To testify to this, Cécile Donadio, teacher in a flexible class and tutor of a student in Master 2, wanted to tell the head of state about her regular school day. Goal ? Show him the limits of his project.
"Emmanuel Macron, I'm going to tell you about an ordinary school day and you're going to tell me how I can do more.†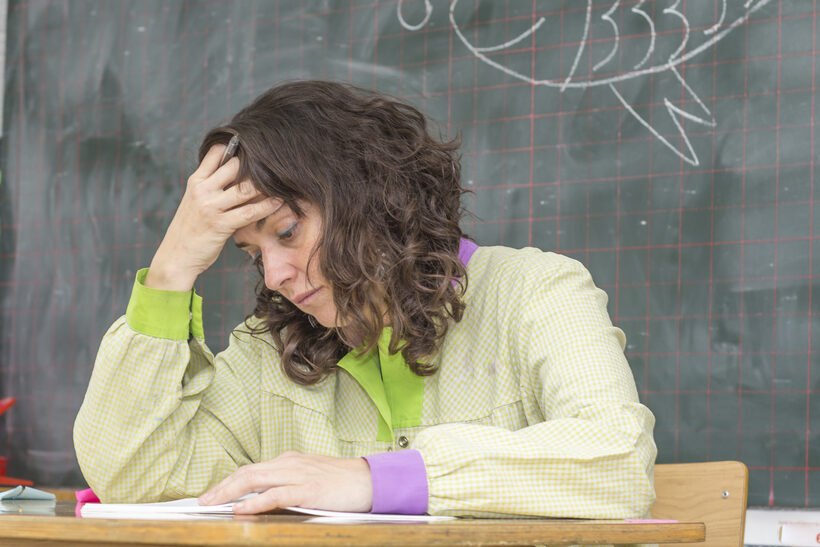 Here is the letter transcribed below and shared on LinkedIn:
07:50: Arrival at school
We open the shutters of the classroom, we prepare the last little things for the morning, read the parents' e-mails, have a cup of coffee.
8.30am: Class starts until 10.15am.
It is non-stop, vigilance at any time without delay. I'm lucky that the morning starts with 45 minutes with the English teacher. But I'm here in their class. Here we go ! No pee break, no coffee break, not even time to take a sip of water! "Him" has no glue (since October he even takes me to the branch of UHU), "S" puts on his mask when we have the right to remove it and he didn't always wear it when it was required, but it allows him to chat without being seen. "V" interferes with everything unsolicited, creating stories in 5 seconds with 10 of the 24 students. "T" forgot his book before the "shh…I'm reading" and "A" has to bring it back to the house tonight (not like everyone else so, "Mommy sent you an email").
And here it is 8:42 am.
10:15 am: break
When checked, still no bathroom break or time for a sip of water. If unsupervised, you have to choose, pee or answer at least 1 or 2 emails from parents. This time is only recreational for the students, in the guidance it is 15 minutes of vigilance at 2 o'clock (I'm lucky, I have a team at the top; we are always with 3 or 4) for 125 children.
10:30 – 11:45 am, here we go again for 1:15 am non-stop
We link the exercises, the discoveries, and we regulate the behavior. "Sir, stop turning your ruler and your square into a weapon of war and targeting classmates pretending to shoot, I've been telling you since September, it's NO!" N. does not have his account. W. doesn't have a compass and S. doesn't know where she left her eraser.
This time I am sitting between the gadget inspector and an office equipment supplier. Oh well, and there is also someone who has badly damaged his finger with a leaf and who can do NOTHING anymore without being treated urgently and without delay. Result, it took me a good 4 minutes to find the wound, I put a bandage on I don't know what, in fact, this time I was a nurse. All this while teaching Mathematics and French.
Last hour: sports!
Finally a moment of relaxation… Oh no! No, because the quarrels between Mr. I are starting again and meddling with everything and the rest of the world (in the classroom). A student falls during dodgeball game, ouch, she's in quite a lot of pain, if she's crying, that means she's really in pain.
I stop the game, she fell on the hip I ask 2 students to take her to the toilet to watch. Meanwhile, the game resumes (yes, because they want to play, huh). I look, I mediate, the 2 students come back, she is bleeding, for more privacy I ask them to go to the secretariat so that she can be treated. We have to accompany the injured, her 2 companions and the 21 other students who want to play sports.
End of sport, lunch break
Still no bathroom break or a sip of water, it's 12 noon. I take news of my wounded, she is in pain, the bruise is big, I install her with 2 friends in the class on a pillow. We monitor and inform. I'm not worried or shocked, but I don't like that. I go to her every now and then.
I'm going to get something to eat and finally get some rest… Oh no! Trick and gizmo fought. Trick strangled thing, put him on the ground and kicked him!
Discussion with the 2, making an appointment the same evening with the parents of something (once the appointment is made, I realize that I had something personal to do and that I cannot avoid… Sorry, my apologies, but I must act quickly).
I finally land for my cold rice and fish. The injury to my chouquette worries me, so I decide to call the father out of caution so he can pick it up. I go to her, I announce her departure, she gets ready. I barely have time to taste the delicious cake a colleague made for her birthday.
13:35 at the gate, my wounded leaves.
13.45: resumption
I don't know if I had a lunch break. I decide to play truant afternoon to calm the atmosphere, the students are over-enthusiastic. We do the "Shh…I'm reading" outside, we go back upstairs for the Friday dictation and presto! Evaluation on polysemy in the garden. The students are surprised, but they like it. It's quieter, quieter (goal accomplished!)
3:15 pm: break
Same as the morning. First bathroom break since 07:50 this morning. Still nothing to drink.
15.30 – 16.45 last hour of the day and week
Story project that the students enjoy. The "I like-I don't like" of the week and it's over.
16.45 – 17.00 departure students
I'm a little worried about my injury, how is she? No time to settle down, meet my boxer's mom. Make yourself emotionally difficult, my boxer is angry and uses provocation because he cannot express it. So yes, I remind you that violence is forbidden, that it goes way too far there. But afterwards it is a child with pain, what do we do? How do we help him? After 40 minutes of meetings, nothing much comes out, he's closed like an oyster, hasn't let go of his anger and leaves… I don't like this kind of meeting.
5:30 PM: 9 hours and 50 minutes of school attendance
Finally in my class, I clean up, I look at the pile of copies … Not too lame, too bad, I'm not working this weekend. Well, I'm not correcting, because there's still next week's lesson to prepare for. Like every weekend, I will work 2-3 hours on Sunday."
Text transcribed with the kind permission of the author, Cécile Donadio.
A powerful testimony that deserves to be shared and heard.